Your browser is not supported.
For the best experience, please access this site using the latest version of the following browsers:
Close This Window
By closing this window you acknowledge that your experience on this website may be degraded.
Commercial & Industrial Products
Rocky Research has served the defense industry for over 25 years, providing cutting edge solutions, targeting the core problems at hand.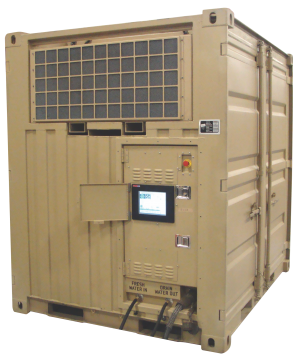 Containerized Ice Making System (CIMS)
Deployable system which produces on-demand, up to 3600 lbs. of ice per day, in sealed 10 lbs. bags with onboard storage for 1200 lbs. CIMS has successfully completed Mil-Std testing and is conveniently self-contained in an a standard ISO Tricon container.
3-Ton ECU/APU
Designed for military environments and operational system reliability Rocky Research's ECU03601-IP also offers the benefits of lower ambient noise and integrated power while being simple to service and operate with straightforward and intuitive controls.